Ecovillaggio Torri Superiore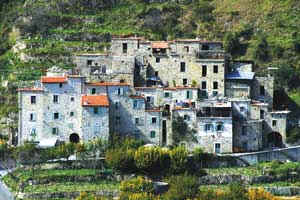 description: The little medieval village of Torri Superiore (XIII century) is located in the Ventimglia hinterland, a few km. away from the sea and the French border. It was built at the foothills of the Maritime Alps, on the slope of Monte Grammondo (1300 mt.), 80 meters above sea level.
The hamlet is surrounded by beautiful olive and citrus trees, mimosa and Mediterranean flora.
Since 1989, the "Torri Superiore Cultural Association", a non-profit NGO, has gradually bought the village, and has started the process of rehabilitation. The aim of the Association is to transform the abandoned village into and ecovillage with a permanent cultural centre, a guesthouse, and to support the birth of a resident community. Today, the resident community has 20 members between adults and children, runs the eco-guesthouse, organises courses and cultural programmes, and develops farming projects (with olive trees and a few vegetable gardens) based on permaculture and organic agriculture principles. 13 private units out of the 20 planned and a large part of the guest house have been completed. Since 1992 Torri Superiore has organised 25 International Volunteers Workcamps with the environmental national organisation "Legambiente" (www.legambiente.it)
Ecovillage Torri Superiore opens its simple and cosy guesthouse to travellers and groups interested in ecology, sustainability, and community living. All meals are served at a buffet in large rooms or on the terraces, furnished with shared tables. The guesthouse offers double and multiple rooms (up to 4 beds per room), with and without private bathroom; a restaurant with special evening meals (mediterranean and ethnic cuisine, meat, fish, vegetarian dishes) based on organic and locally-grown produce; ample terraces for sun-bathing and relaxing. Laundry facilities, a small library and an internet point are also at the guests' disposal.
Torri Superiore is a member of GEN - Global Ecovillage Network, of RIVE - Rete Italiana Villaggi Ecologica, and of the Italian Permaculture Academy.
In the vicinity, one can find the clear Bevera creek (5' on foot), and enjoy summer swims in its beautiful, secluded water-holes; trails and hikes at various levels of difficulty to Colla Bassa (5 h. on a ring-trail), Villatella (2 h.), Monte Grammondo (8 h. with sleeping facilities at the Gerry Refuge).
The Torri Superiore guesthouse is open year-round and offers accommodation in single, double and multiple rooms with or without bathroom. The comfortable central bathrooms are supplied with showers and solar warm water. Ample dining rooms, terraces, meeting rooms, workshops, and storage rooms are also part of the guest centre.
The restaurant offers carefully prepared meals based mostly on local and organic produce. The cuisine is normally Mediterranean, with little meat, some fish, but plenty of fresh vegetables and fruit. The menu is fixed and booking is requested; meals are provided at a self-service buffet at regular times. All guests sit together at large tables and share the company of members and residents.
The Torri atmosphere is simple and informal, well suited for groups and individuals interested in learning about the ecovillage experience, and participating in its cultural and educational programmes.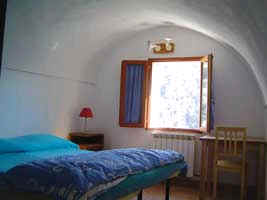 courses: Torri Superiore offers courses and practical workshops on topics related to sustainability, communal living, manual work, care of people and of the environment.
Since year 2000 Torri Superiore has offered courses on Permaculture Design according to the standard 72 hours module. The Torri Superiore community studies and applies permaculture principles in the developments of the ecovillage project; it is a founding member of the Italian Permaculture Academy, and for years housed the secretariat (www.permacultura.it).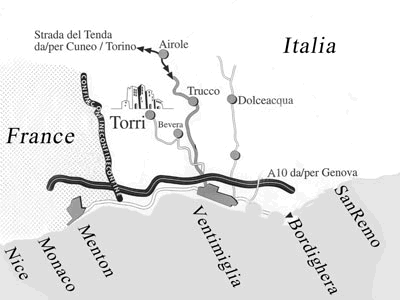 Torri Superiore is situated at 80 meters above sea level, at the foothill of the Ligurian Alps. The small valley is crossed by the beautiful Bevera River that flows from France and forms natural swimming pools where one can swim in the warm months. The local vegetation is evergreen, with Mediterranean shrubs, ancient olive trees, holly-oaks, lemons, oranges and mimosa (wattle).
The climate is mild throughout the year, with temperate winters and cool summers.
In the nearby village of Torri di Ventimiglia (250 inhabitants) one can find a restaurant, a small department store, a church, and the bus stop of the bus to and from Ventimiglia.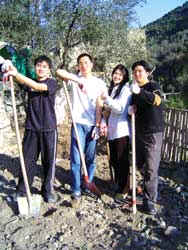 Every year since 1992 Torri has hosted international volunteer workcamps in partnership with Legambiente (www.legambiente.it). Hundreds of youth from all continents have contributed to restoring the little village and its surrounding land, and gotten in exchange a chance to experience the communitarian and ecological way of life, that may inspire their future choices.
Apart from international groups, individual volunteers are also welcome in Torri. Please contact the office directly to make agreements on the dates and conditions of a stay.
pricing: Prices include: accommodation in double or multiple room, bed linen and blankets provided (towels normally are not). All external bathrooms are ample and heated. Breakfast and evening meals are served at the buffet in dining rooms and on the terraces, and prepared mostly with organic ingredients. Fish dinners on Friday, meat dinners on Saturday, home made pasta served at the Sunday lunch. Vegetarian menus available on demand. Packed lunches for trekkers available at 5 Euro / person. For groups of minimum 8 people: introduction to the Ecovillage on Saturday night.
" Children up to 13 yr. pay 50% (max .2 per couple)
" Extra meals Euro 15 / person.
" Small pets accepted only in double rooms and prior to agreement
" Conventions: The guesthouse is open to all members of the Friends of Torri Association (yearly membership fee Euro 5 / person).
Discounts for groups of minimum 8 people 5% discount for long stays (2 weeks up)
Room prices
Double room with bathroom inside Euro 49.5/night/person Single room without bathroom inside Euro 44/night/person Double room without bathroom inside Euro 38.5/night/person Multiple room (4 beds) without bathroom inside Euro 33/night/person All prices are half board, with buffet dinner and breakfast included.
contact details: please contact for further details:
Torri Superiore
Associazione Culturale Torri Superiore
Società Cooperativa Ture Nirvane a r.l.
Via Torri Superiore 5
18039 Ventimiglia (IM) Italia

tel. +39 0184 215504
fax. + 39 0184 215914