san martinho organic farm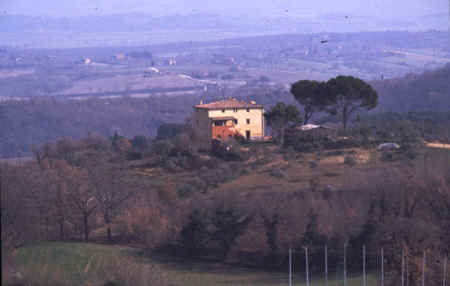 description: In the Beautiful Tuscan countryside, in Siena province, 800 meters from Montepulciano's old town walls, San Martino organic farm carries on its biodynamic/homeopathic agriculture activities together with its farmhouse Bed and Breakfast service.
San Martino's Farm and Villa are placed in a privileged location that embraces the whole valley, the surrounding hills and a breathtaking view of the town.

The Villa has been recently restored according to the rules of bioarchitecture, using exclusively natural and ecological materials. Four spacious rooms, with mahogany wood floor and private bathrooms, are located on the first and second floor of the Villa; king size beds are made with solid wood frames, special wood and latex springs and cotton futon mattress that allow perfect adaptability.
Each room has an electric current breaker that switches off all electric tension as soon as the last light is turned off and thus cancels the presence of any electromagnetic field. Heating system and hot water are fed by solar energy (solar panels) and/or wood.

Morning breakfast is prepared only with home made or local organic products, suitable for vegetarians and celiacs.

On the ground floor our guests can benefit of a spacious dining-room with a comfortable kitchen and terraces, and of a Biolake (bio-swimming pool), free of any water chemical products, where you can dive or relax under the secular olive trees.

The Farm covers an area of 5 hectares of land cultivated with biodynamic/homeopathic methods philosophically inspired by the founder of Anthroposophy Dott. Rudolf Steiner. Actually San Martino's Farm produces saffron, extra virgin olive oil, honey, cereals and grass.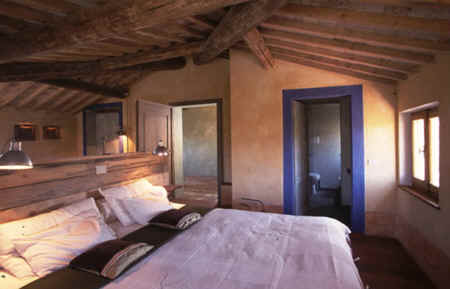 accommodation: The Villa blends completely with the environment that surrounds it thanks to the colours of the external plaster obtained with local earth mixed with natural lime.

It has been totally restored according to the rules of BIOARCHITECTURE, using exclusively natural materials such as lime, wood and stone, natural earth and beeswax for finishings; a geobiologist has identified and measured electromagnetic fields, Hartmann's knots and the spaces have been subdivided and the beds positioned accordingly.


Together with our two children we live on the ground floor of the villa whilst on the first and second floor we have 3 suites (approx. 45 mt) with private bathroom and 1 double room with private bathroom (approx. 27 mt) for those guests who would rather enjoy a family atmosphere and more human spaces instead of a hotel.

All the rooms have an electric current disjoiner that switches off all electric tension as soon as the last light is turned off and thus cancels the presence of any electromagnetic field.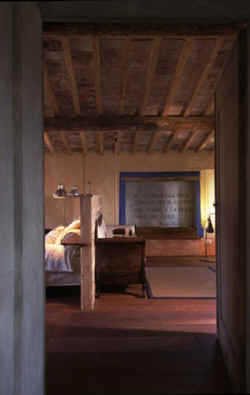 prices:
First floor, Camera di Sophia 2 persons - 130 euros
First floor, Suite di Miran 2 persons - 160 euros
Second floor, Suite di Flores 2 persons - 160 euros
Second floor, Suite di Mark 2 persons - 160 euros
Extra bed - 20 euros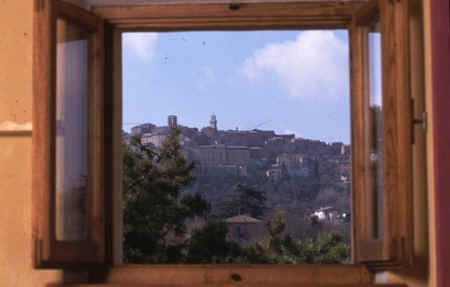 LA FATTORIA covers an area of 5 hectares cultivated with organic/ biodynamic methods. Currently we are growing olive trees, saffron, wheat and grass. We are giving our land a much needed 're-establishment' period after its the previous owner abandoned it for 8 years.

Eventually we shall have fruit trees, healing herbs and a stable for horses; but most of all we are interested in starting a research program on the regeneration of plants and seeds through biodynamic and homeopathic methods as described by Rudolph Steiner.
The farm produces : Extra Virgin Olive Oil, honey, saffron.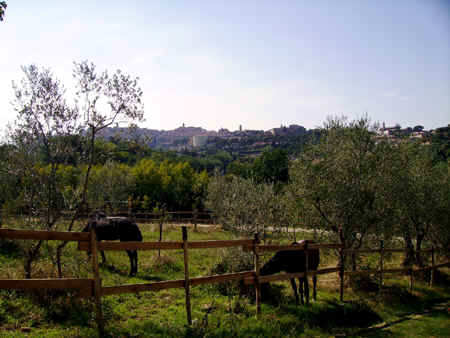 location and getting there: Siena 64 Km - Florence 110 Km - Pisa 190 Km - Arezzo 55 Km
By Plane- Rome, Bologna, Venice, Florence, Pisa. ( major airports) Perugia, Rimini (Smaller airports.)
By Train- Chiusi-Chianciano Terme, 18km southeast and on the main Rome–Florence line, is the most convenient train station (rather than Stazione di Montepulciano, which has very infrequent services).
By Bus- Tra-in runs five buses daily between Montepulciano and Siena via Pienza. Regular LFE buses connect with Chiusi and continue to Chiusi-Chianciano Terme train station.
By car- take the Chianciano Terme exit from the A1 and follow the SS146. Cars are banned from the centre. There are car parks near the Porta al Prato, from where minibuses weave their way to Piazza Grande.
for information and bookings:
Please contact the owner for availability and bookings:
email: sanmartino@montepulciano.com
website: www.fattoriasanmartino.it