la cerqua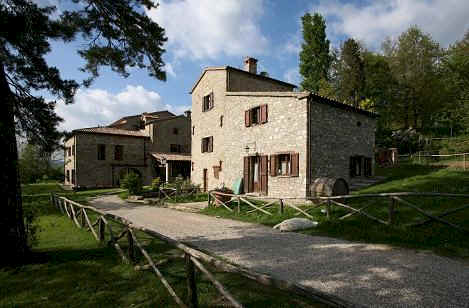 property description :

La Cerqua , a recently restored XIV century farmhouse, once believed to have been a monastery, is situated in a 500 acres organic teaching farm, in the Pietralunga Forest , a lonely natural area of the Carpina Valley , Upper Umbria . Guests accommodation comprises a total of 3 houses (the Oak, the Marble Gall and the Old Barn) with tasteful rooms and suites, each named after a local tree; the organic restaurant, the club-house (with a reading-room a music-room and a bio-bar with veranda), the acorn-shape swimming pool and the riding-ground let you to aspect unforgettable nature holidays (here you can explore the Wizard's Garden!)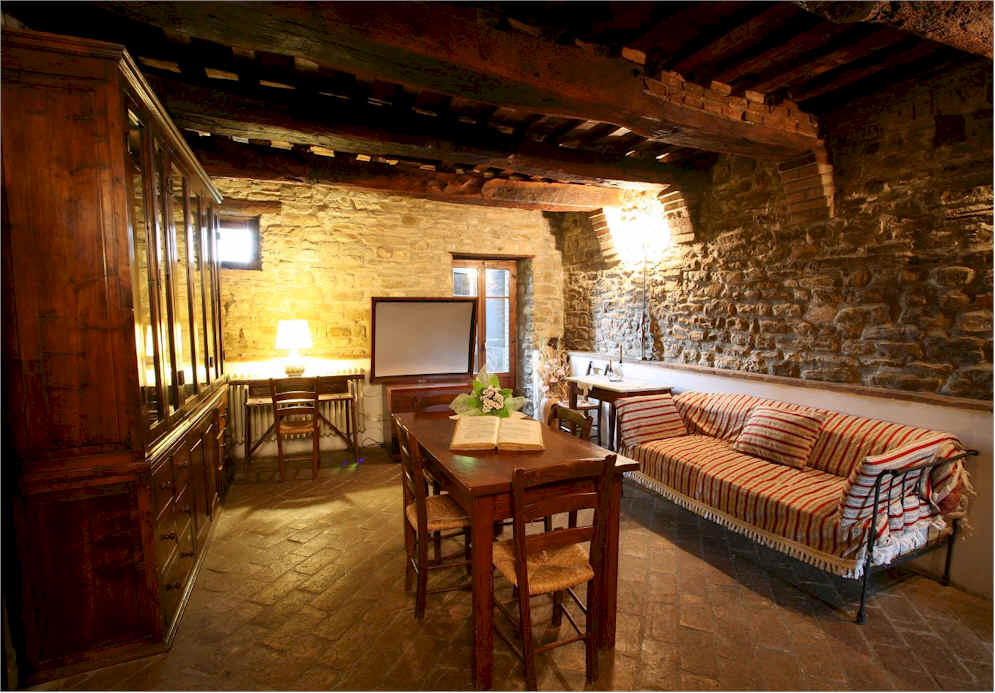 accommodation:

casolare Cerqua (the Oak) – 8 bedrooms

casolare Balucca (the Marble gall) – 9 bedrooms

Vecchio Fienile (the Old barn) – 2 small apartments (monolocali with cooking spot)

There is a maid service, all the linen and towels are provided - pets are allowed.

In summer the day and the time for arrivals (after 2 p.m.) and departures (before 10 a.m) is Saturday. In the other seasons you can arrive the day you want.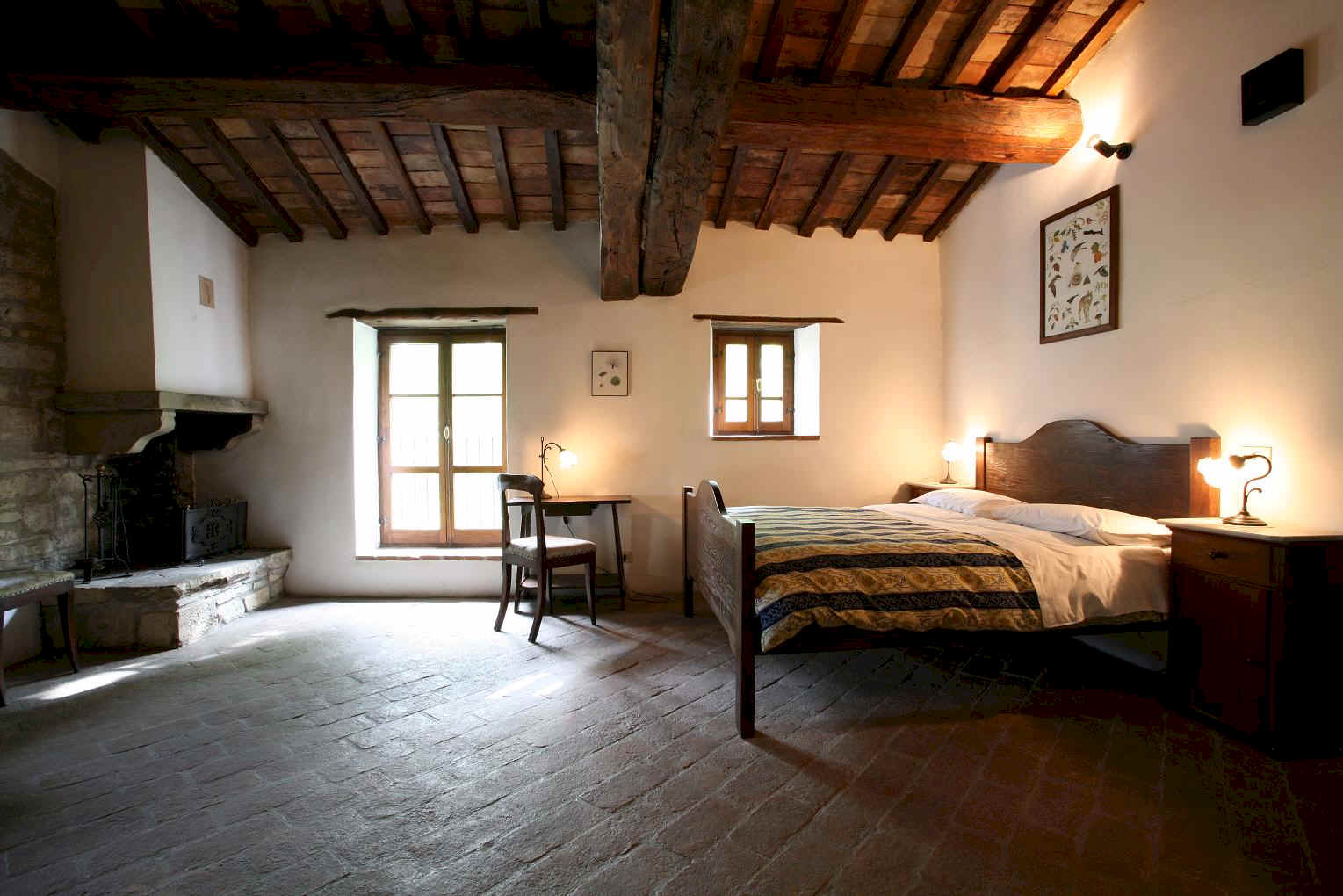 eco policies: In our business we adopt:
- energy saving measures (such as insulating houses and using: high efficiency rating ridges and freezers, long-life/low-energy bulbs, small kettles to decrease water and power useage);
- water conservation (we fit low flush toilets and use low flow taps and low pressure showers; we ask guests to reuse towels and sheets more than once);
- recycling (we separate glass, metal, paper, plastic, and recycle; we feed food scraps to our animals – chickens, pigs, goats, sheep, horses; we create a compost heap; we use the Internet to cut down on paper-based advertising; we print leaflets, brochures on recycled paper).
surroundings: There is a barbeque-area, a swimming pool, gardens, a veranda, marvellous view over the Carpina valley, good walking, wildlife (falcons, deers, wildboars and … the wolf)
Car hire is required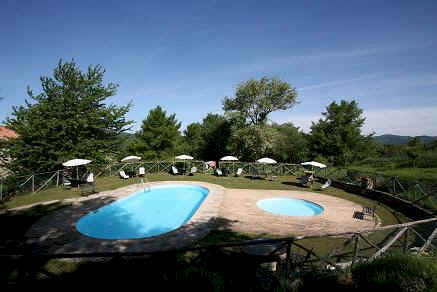 other information: The 37 acres crops are grown according to the ORGANIC FARMING methods: surface ploughing, organic dunging and rotation; the cereals (wheat, barley, oat and farro) are alternated with sunflowers, potatoes and forage (erba medica, clover and lupinella).

The fruits of our trees and shrubs rows are being used in the farm lab for jam and liquers: Visner (with wild cherry), Fa.G.iN (with beech leaves and juniper berries), Scafurnicchio (with wild rose berries) and Nocino di San Giovanni (with green walnuts).

Most of the products (A.I.A.B. certificate) are being re-used in the farm or sold in the farmhouse shop.
The Oak, Maple and Ash 75 acres wood management (28 acres and 47 acres coppices) is inspired by the NATURAL FORESTRY, according to the criteria developed for the Appennins by PRO SILVA ITALIA. Most of the wood is being used in the farmhouse's open fireplaces.

On the Farm there is also a small Pine wood, and a 4 hectare reforestation with white truffle symbiotic trees.
On the about 25 acres meadows, 10 horses and 25 sheep stay wild along several months; the only one herb cut occurs in Spring, while the animals stay in the Col Preiano stables. Sheep products are whool and lambs, whilst the horses are being used for horse riding.
Farm ecological products :

wheat and "farro" flour

white meat
(chicken, duck, goose, guinea fowl, turkey,rabbit, lamb)

ham

vegetables

home made jams and marmalades

Visner (home made sweet wine)

cereals and legumes

herbs liqueurs

Wizard's Garden book and posters

Other ecological products :

extra-virgin olive oil
(Ranieri)

pasta
(Bioitalia)

umbrian honey
(Migliorati)

cane sugar
(Panela)

coffee
(Goppion)

beer
(Hirter Biobier)
milk and cheese from Consorzio Regionale Umbria Milk Producers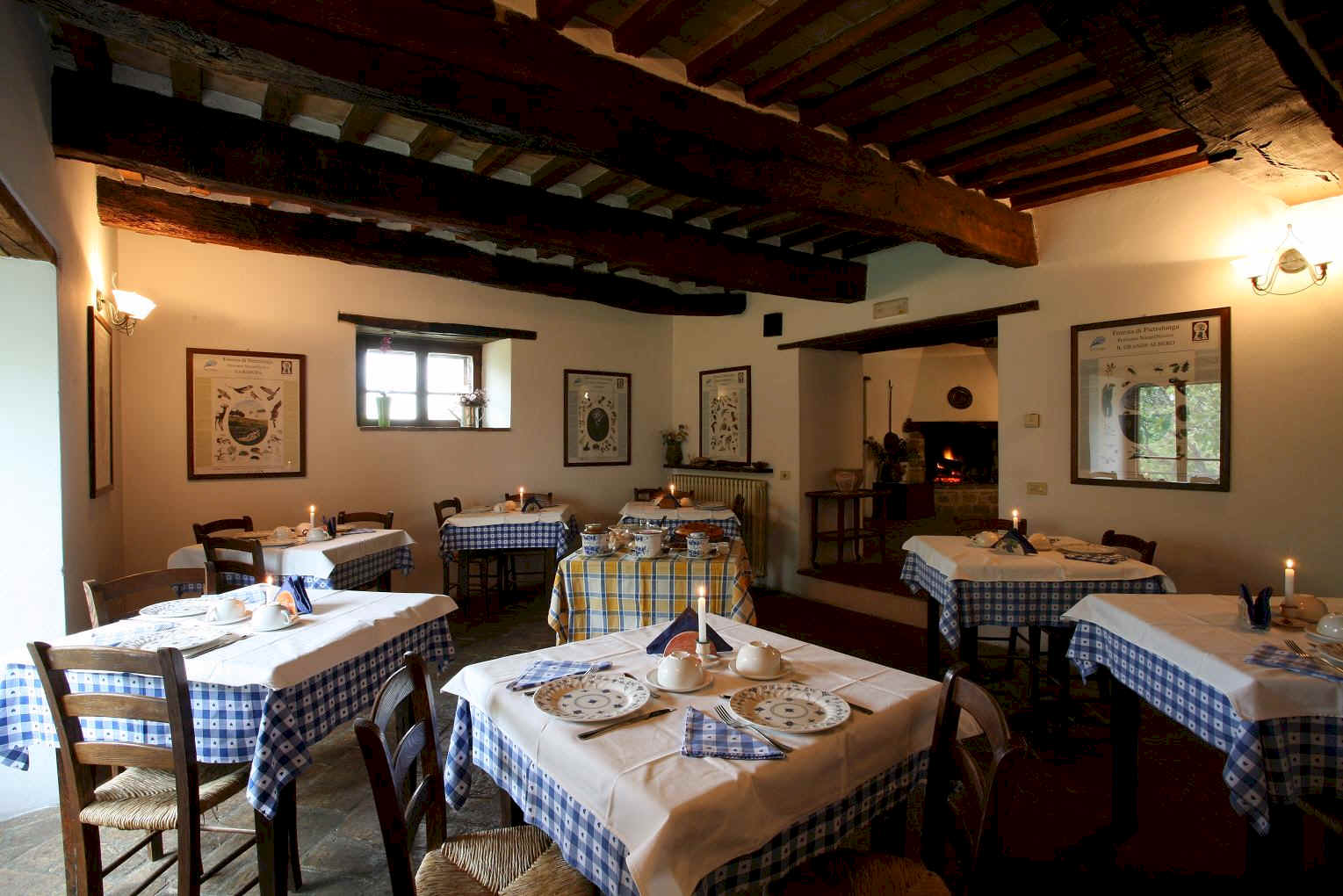 location: the property is;
2 km. far from the village (Pietralunga)
20 km . far from the medieval towns (Gubbio, Città di Castello
40 km . far from thr Railway Station (Gubbio-Fossato di Vico)
60 km . far from the airport (Perugia S. Egidio)
80 km . far from the coast ( Adriatic Sea )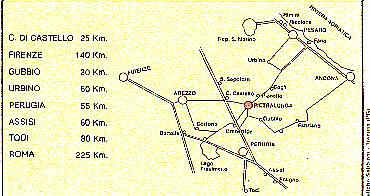 prices:
low season (March, April, October, November) – b&b euro 38,00 per person - HB euro 60,00 per person - FB euro 75,00 per person
mid season (May, June, September) - b&b euro 40,00 per person - HB euro 62,00 per person - FB euro 77,00 per person
high season (July – August) - b&b euro 42,00 per person - HB euro 65,00 per person - FB euro 80,00 per person
reductions, families:
| | |
| --- | --- |
| Children 0 - 2 years old: Free | |
| Children 3 - 6 years old: 50% less | |
| Children 7-14 years old: 25% less | |
| | |
| Families: 2 adults + 2 children = 3 fees | |
apartments (monolocali with cooking spot in the Old Barn):
low season - euro 70,00 (2 beds) - euro 100,00 (3/4 beds)
mid season - euro 75,00 (2 beds) - euro 105,00 (3/4 beds)
high season - euro 80,00 (2 beds) - euro 110,00 (3/4 beds)
whats included: Guided walks in the Wizard's Garden natural oasis
Free use of
;
swimming
pool, barbecue, baby park, bowshooting field (with arrows and bows), football ground
contact details: please contact owner for further details:
Gino Martinelli
PIETRALUNGA (PG) I-06026
Upper Umbria
Italy
Tel : +39 075 9460283
Fax : +39 075 9462033

e-mail: info@cerqua.it