ethical accommodation
il pino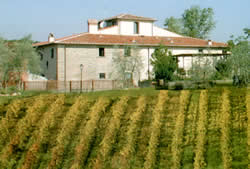 property description: Around the natural oasis of the Valle dell'Inferno, in the heart of Tuscany between Florence and Arezzo, in an enclave of organic farming amongst rows of Malvasia vines, organic strawberry plantations, meadows of medicinal herbs, olive groves, in an unpolluted area is where the historic house named Il Pino was renovated. Renovated respecting the style of old country farmhouses, even the furniture has been restored in keeping with the original rustic Tuscan style known as "arte povera", but with all modern comforts including internet. The estate accomodates guests to revive old customs and experiences of country life in the year 2000. A top farm holiday, "5 ears", (like a five star hotel) where our customers are guests in every respect.
surroundings: Our village, Castiglion Ubertini, takes its name from the powerful feudal Ubertini family. Its origin dates back to the end of the 12th century even if substantial "chipped flint stones" have been found which show the existence of a pre-historic resort. The castle contained the main building, the workers' huts , and the small church of San Giorgio. It was destroyed by means of the Florentine militia in 1342. Our farmhouse goes back to the late Middle Ages because the original central core was a sighting tower, given its strategic position overlooking the Valdarno area. In the existing external wall, you can find a stone with hieroglyphics which experts
have interpreted as a "quarry mark" dating back to the late Middle Ages which shows how stones of the existing tower had been used in extension work.
changeover day: Our welcome service provides the following for each apartment; 2 bottles of mineral water, (1 still, 1 sparkling), a bottle of our Malmsey wine, honey soap in the bathroom, seasonal aromatic herbs in the kitchen, a jar of our strawberry jam with no added sugar and a natural herb tea from our herb garden.

Stays are weekly starting on Saturday at 4:30 p.m. ending at 10:30 a.m. the following Saturday.

A 30% deposit must be sent with the booking.
We accept payment (also in Euro) by postal order, Visa, American Express or if payment in advance, by cheque.
contact details:
Il Pino bioagricoltura
ss Castiglion Ubertini 78, 52028 Terranuova B.ni (AR)
Tel +39 055 9703807 Fax +39 055 9194021