il borro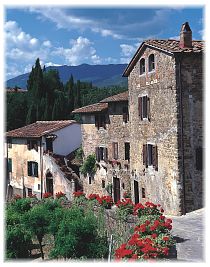 property description: As you move with the sunlight over the bridge you can hear the mocking call of the peacocks, laughter of the pheasants and homely cooing of the pigeons who nest just under where you stand. Look up now for your first full view of a place that will achieve an inevitable familiarity in your heart and mind. The simple act of breathing in the warm fragrances of rosemary, sage and flowers reawaken sensations and memories long lost - the tranquil atmosphere being almost at odds with the excited babbling of the brook far below - these are the sights and sounds of centuries past.
accommodation: Only by the faith and will of man was the Borro originally created and by that perseverance generations on so it has been restored. When the Ferragamo Family arrived at Il Borro in 1993 the palazzo and village lay in a sad state of repair, there having been little constructual maintenance due to the economy since the end of the war. After almost a decade of careful planning and hard work Il Borro has now been restored to its rightful place as one of the most glorious of these Tuscan outposts.
This beautiful estate is situated at the very heart of Tuscany. At the centre of the triangle formed by Arezzo, Florence and Siena, with both Pisa and Lucca only an hour and half away by car. Providing the ultimate in luxury holiday apartments, activities and wine tasting excursions in Chianti.
contact details:
telephone: +39 055 977053
fax : +39 055 977055
For more information E-mail: ilborro@ilborro.it