haritha farms

property description: We take great pride in being able to introduce our guests to the myriad delights of the traditional Kerala Kitchen .The Pimenta is off the beaten track, surrounded by the riches of our forest garden .It is a place where you can truly relax and be yourself and because we believe in giving our visitors a taste of what it's like to be part of a typical local homestead , we limited the number of places for the guests . Haritha Farms are accessible by public transport, We are easily accessible from Cochin Airport ,Train Stations in Kottayam ,Cochin and Alwaye .Also easy access to other destinations of interest .

Accommodation is affordable and you'll be able to choose from a variety of activities during your stay whether you want to join others on a trip ,travel with friends or find peace and tranquility away from the crowds .Communal area with small library .Organic garden fresh spices for sale .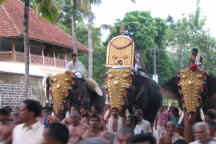 Stay in a tropical spice forest garden using Indian Permaculture and bio-organic techniques.
See the spices growing
Explore the neighbouring villages
Picnics to waterfalls
elephant training centre
tea gardens
handicrafts
old temples ,churches and temple festivals (Nov. to May)
Visit the local truck painting centre - art in application
Also possible to make this place and explore the delights of Kerala like Kumarakom ,Munnar, Thekkady,Idukki ,Vagamon ,Alleppey, Vaikom and Cochin
Also possible to visit local interesting places depending on your interests
Interesting Walks • through working rubber plantations • pineapple groves and rice fields • climb hills/trekking in the local hills with guide and enjoy the spectacular views and enjoy the local flora, fauna and village life
Swim in the fresh water river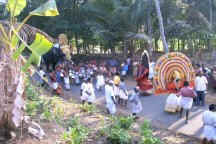 We offer a variety of Eastern Keralan specialities and other Indian dishes home cooked with the flavour and aroma of our fresh farm grown spices and coconut. The food is tasty, healthy and vegetarian. Coffee served is farm grown. Facilities for making your own coffee, tea or fresh lime soda are available in communal area. Seasonal tropical fruits are always available. Water is filtered (safe drinking water).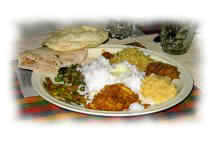 From former guests:
A magical setting truly welcoming, very relaxing, just to sit on the veranda, listening to the birds, admiring the butterflies and the jungle garden was wonderful... The garden tour was fascinating, see all the spices actually growing..

— Mary Neate, UK


We came here from a trip in Munnar and before that a back-water trip. Here we have experienced a lot more and all these guided trips together...
The lovely taste and smell of the Keralan food in your kitchen as well as by the table. The professional and very enthusiastic guided tour around the garden... here we found a place we could both relax and be on our own and have nice talks with you...

— Kerstin Ausbon and Anna Carlsson Mansarp, Sweden
location: Nearest Airport -- Cochin International and Domestic Air Port --50 Kilometer ..One hour drive

Nearest Rail Head from North -- Ernakulam Junction 55 Km One hour 15 minutes drive ,

From South -- Kottayam Railway Station 65 kilometers and One and a half hour drive.
Possible by Public Transport as well as Taxis Approximate distances and time taken are given .

Muvattupuzha is the closest town if you are coming from Ernakulam, Kottayam, Alleppey, Thrissur and Calicut. If you are coming from Periyar the closest town is Thodupuzha. Frequent private buses that pass through Kadalikad link these two towns.
accommodation: Clean and comfortable ensuite bungalows with private verandas are built in the traditional style and over look the lush native forest. You will be staying in one of our clean comfortable ensuite bungalows on a family run farm, overlooking the lush native forest. The accommodation is away from the communal area ,so that you can be sociable or private as you wish .We have hot water (most of the time) and drinkable filtered water too .The emphasis is giving our guests a taste of traditional Keralan country life away from the tourist trail .We offer a haven for those who want to relax , get a taste of traditional Keralan Country life and experience the friendly welcome of the village people .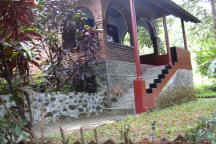 pricing: the Pimenta offers you accommodations with food on a daily basis as well as interesting packages.

You can chose the one most suited for you.
contact details: please contact owner for further details:
Mrs. Mathew or her son Jacob Mathew

The Pimenta-Haritha Farms

Kadalikad Post,686670, Kerala, India

Telephone: + 91 485 2260216 Mobile: +91(0) 9447302347

harithafarms@gmail.com harithafarms@hotmail.com haritha@satyam.net.in haritha@sify.com