apani dhani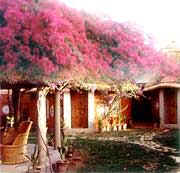 property description: Our bungalows are meticulously constructed in the traditional way. All the rooms are beautifully decorated with regional handicrafts and feature full bathroom facilities. We welcome both individuals and small groups to join us in the intimate and unique ambiance that is Apani Dhani.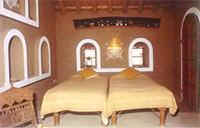 We provide delicious vegetarian home cooking. Most of our ingredients come from our organic veg. garden and preserve subtle flavours of home grown seasonal produce. Our meals will add great pleasure to your stay at Apani Dhani.

Guiding
You may wish to have a guide with you to discover Nawalgarh and the surroundings. It could enable you to easily find the most interesting havelis, and to have a deeper insight into our region and its customs.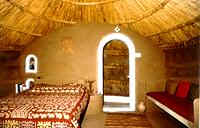 Our Eco Practices:
Environment
Conceived out of deep commitment to ecology and healthy living, APANI DHANI embodies our attitude towards life. We opened this eco-lodge to travelers in 1990, offering charming accommodation in an authentic surrounding.

Use Of Alternative Energies
Photovoltaic solar panels : guests can get electricity in your room
24 hours a day, despite numerous power cuts and without the noise
and pollution of a generator. Two bulbs are connected with a solar voltaic panel,
one in the bedroom and one in the bathroom.

Solar water heating system: the hot water is provided by the home made
solar pannels designed as per the Central Arid Research Institute - Jodphur.

Solar oven
Occasionally used for cooking rice and lentils.

Low energy consumption bulbs using five times less electricity.

Organic Farming & Food
Apani Dhani is surrounded by one hectare of agriculture land. We grow wheat, millet, lentils and different types of seasonal vegetables. Neither chemical fertilizers nor pesticides are used.

We also get a supply from Navdanya foods, a Delhi based organisation, Navdanya works for conservation of Bio diversity, promotion of poison free agriculture and fair trade.

Eco-Friendly Housing
Pampas grass (local plant) is used for thatching the roofs of the huts.

Sun dried clay bricks, mudplaster and ochre from the nearby mountains are utilized for wall construction and decoration.

These materials provide ideal isolation for our climate.

Water Conservation
Through traditional Indian way of bathing (bucket and mug), the villagers use mere 15 liters of water per person per bath.

1. They first wet themselves, taking water from the bucket with the mug.
2. Then, they apply soap on their bodies.
3. Finally, they rinse themselves by taking again water with the mug.

In all cases, the water in the bucket remains clean and if any is left, it can be used for other purposes.

Taking shower with running water requires 2 to 3 times more. Therefore, buckets and mugs are available in each bathroom of Apani Dhani as well as running hot and cold water but through taps only.

By adopting the indian way of bathing, the guests help conserving water, scarce in Rajasthan.

Rain fall in 600 square meter of paved courtyard and from the roof is collected in an underground tank. This water is used for agriculture.


Recycling
Fruit juices are bought in glass bottles which are taken back by the dealer.
Leaf plates are used to serve the meals. Along with leftover food, those are
given to the animals or composted.
Used paper is turned into papier mache.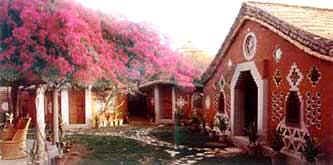 From former guests:
What wonderful peaceful surroundings! The friendly family atmosphere here at the Jangidís was marvelous. Our intention was to stay a night and move on to other small Shekhawati towns ... instead we used Nawalgarh as our base, as our home and explore the tranquil countryside from here. Thank you so much for the special memories you have helped us to create. Shekhawati is definitely a jewel in Rajathan and I really felt Iíd stepped off the tourist bandwagon and stepped into real Indian villages.
Heather Kirkby - Canada

Thank you so much for unforgettable days here in Nawalgarh. Beautiful area, beautiful havelis and when on the top of that you meet so much of hospitality and friendliness, a stay becomes a unique experience.
Marianne Olesen- Denmark

We appreciated so much our stay here. Cordial welcoming, comfortable room, delicious food and a very peaceful place. Ramesh and Rajesh are a gold mine of information about the area and Rajasthan and the daytrip excursion in Shekhawati enabled us to discover the multiple treasures hidden here and there otherwise difficult to find. You made our stay in Shekhawati more friendly and more complete. This has been a great moment of our trip. Thank you for everything.
Rene et Eva- Montreal - Quebec - Canada
location:
From Delhi

By train:
Direct daily night train "Shekhawati Express" (train no 9733). It leaves Delhi Sarai Rohila at about 11.00 p.m. and reaches Nawalgarh at 7 a.m. the next morning. Sleepers are available in II class and II AC and can be booked from any computerized railway reservation centre. Beware of touts, even at the tourist reservation centre, who will tell you that the train is fully booked, that you cannot get seats before many days. They simply want to sell you a package tour with a car.

By local bus:
Far less practical than the train. Not really advisable. The buses operate from Inter State Bus Terminal, Delhi.

By car:
Approximately 6 hour drive (275 Km). First, drive towards Gurgaon, further on to Rewari, Singhana, Chirawa, Jhunjhunu and Nawalgarh.

From Jaipur:

By train:
3 daily trains, one in the morning and two in the afternoon. The quickest train (direction Lahoru) leaves at 12.50 and reaches Nawalgarh at 16.20. No advance booking necessary and not usually crowded but the train does take longer than the bus.

By local bus:
Numerous direct buses (at least one every hour) taking 3 1/2 hours to reach Nawalgarh. No advance booking, but very convenient. One simply needs to check whether the bus is direct, because some others, also going towards Shekhawati require a change in Sikar.

By car:
3 hours drive (146 Km). First drive to Chomu then to Ringus, Sikar and Nawalgarh.

From Jodhpur:

By train:
No direct train (but possible via jaipur).

By local bus:
7 daily buses : 3 during the day; 4 during the night (9 hour journey).

By car
Approximately 7 hour drive (350 km). First drive towards Nagaur, further on to Didawan, Losal, Sikar and finally Nawalgarh.

From Bikaner:

By train:
Daily night train direction Jaipur with a change in Sikar. Departure from Bikaner at 2030 hrs; arrival at Sikar railway station at 0335 hrs. From there, either take a taxi (29 km) or wait for the morning train to Nawalgarh at 0700 hrs.

By local bus:
2 direct buses to Nawalgarh (5 hour journey) via Ratngarh, Fatehpur and Mandawa. Numerous buses with a change in Sikar.

By car
4 hour drive (225 km) via Ratngarh, Fatehpur and Mandawa and finally Nawalgarh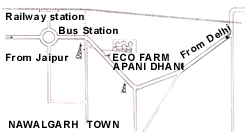 pricing:
Room Tariff
Economy double occupancy Rs. 750/- per night; for a Single occupancy Rs. 600/-
Standard double occupancy Rs. 850/- per night; for a Single occupancy Rs. 700/-
Superior double occupancy Rs. 950/- per night; for a Single occupancy Rs. 800/-
(Tariff valid from 01 Oct 2004 until 30 Sept 2005. )
contact details: please contact owner for further details:
Mr. Ramesh C. Jangid
Nawalgarh 333 042, Rajasthan, India.
Tel: (0) 1594 222239
Fax (0) 1594 224061

e-mail: enquiries@apanidhani.com